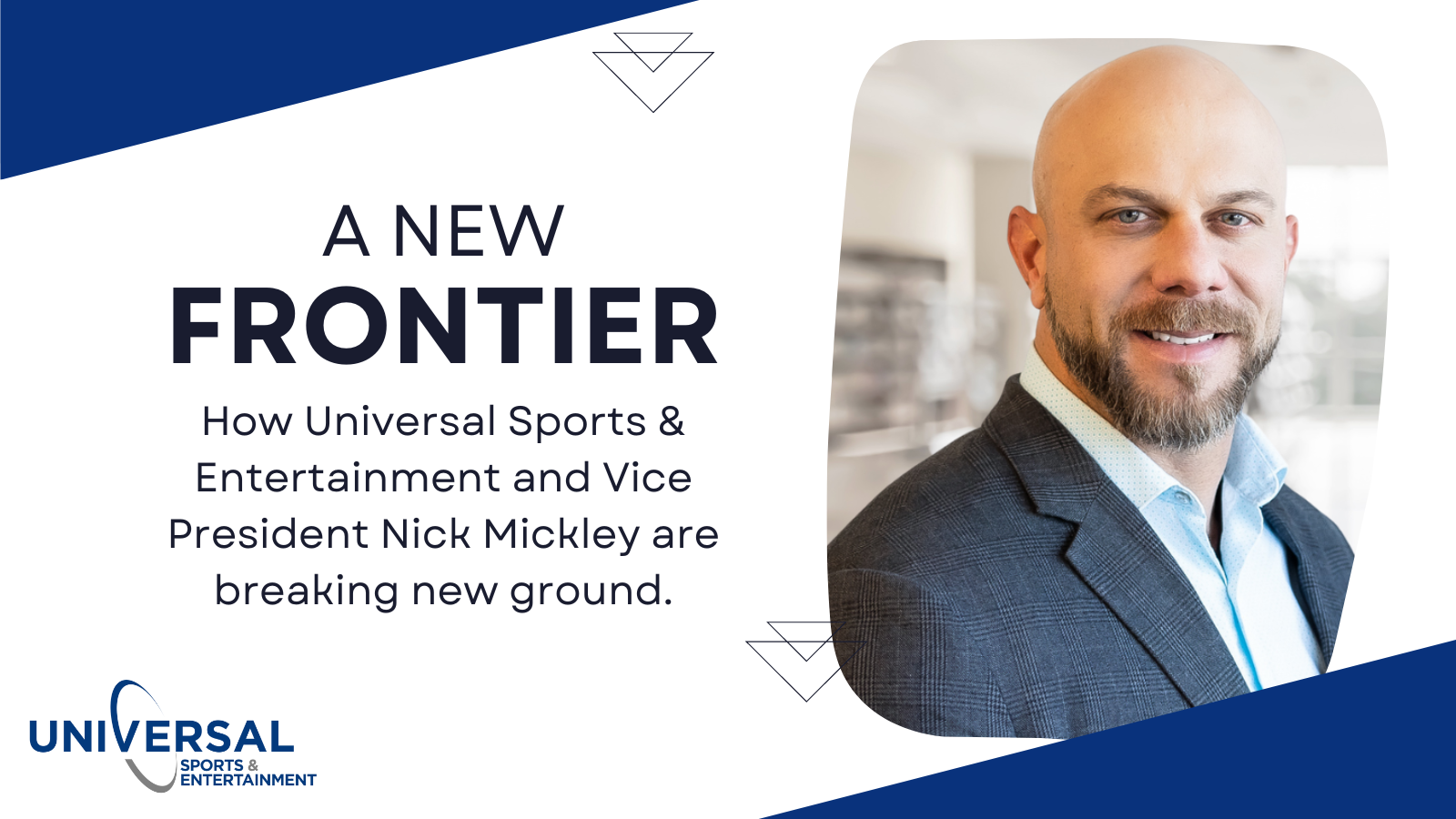 What makes Universal Sports & Entertainment different from Universal Media at large? For Nick Mickley, Vice President of the new division, the answer is simple.
"Sports and entertainment is such a unique space," Mickley said. "The biggest difference is how the sports or entertainment brand connects our partners with their consumers. Additionally, our USE partners understand the importance of expanding these experiential partnerships into their overall media landscape."
USE began in 2022 when Mickley first arrived at UMI. He brought with him nearly two decades' worth of experience in live entertainment from iHeart Radio, and offered Universal the chance to expand on the limited sports marketing they had previously provided partners and fully develop a division. He credits President and CEO Anne Carnathan with the initial "vision" for what USE could become and says that their collaboration was what allowed USE to come to life.
"I think the development and the founding of USE came from taking the efforts [at UMI] that had begun with sports with several existing partners and combining that with my experience to build and grow this new division," Mickley said.
Mickley views the differences between USE and UMI as both a challenge and an opportunity. It is a Herculean task to build into a new industry almost from the ground up, but in USE's case, the juice is worth the squeeze.
Apart from the unique connection between brand and client that sports and entertainment marketing offers, there is another layer of connection that is impossible to replicate– the connection between consumer and brand. In live arenas and stadiums such as sports and entertainment, the opportunity to leave an impression is unprecedented, giving brands the chance to make their mark.
"There's a powerful connection between an experience– an event you attend, a game– and then tying that back to a brand that was part of that experience," Mickley said. "When it comes to marketing a brand in sports and entertainment, the experiential aspect gives you a greater opportunity to create that connection and gain loyalty from a consumer."
Even in USE's short lifespan, it has evolved significantly in the array of ways it can support its clients. Traditional sports and entertainment marketing is primarily founded upon in-stadium elements and social media partnerships, but Mickley sees just as bountiful an opportunity in regard to influencer marketing within the industry.
"We continue to evolve in the influencer space," Mickley said. "We'll continue to engage our partners with venues, teams, concerts and events, universities, and more "traditional" sponsorships, but we certainly understand the value an influencer offers. Whether it's a mega-influencer with 3.5 million followers or a nano-influencer with 1300 followers they can have an impact if the audience for the influencer and the brand alignment have synergy. It's important that expectations are set from the very beginning of a partnership between influencer and company. "
For interested brands, sports and entertainment are sometimes viewed as unfamiliar territory. There is the undeniable element of brand exposure– the name recognition and circulation that comes with naming rights to an arena or a prominent place in a stadium, but not always the perceived link between live events and driving consumers.
Mickley believes this doubt stems from a fragmented approach to experiential marketing. Signage and activation may aid a brand's visibility, but if those efforts are not supplemented by additional campaigns, endeavors in experiential marketing will not reach their full potential.
"Too often, we see partners putting their name on sports and entertainment sponsorships, and that feels like enough, but it's not," Mickley said. "There's enormous impact lost when you don't take amplify and integrate that back to your traditional and digital media strategy. Those campaigns help connect the dots and emotion-the personalized memory-between the team or experience and the consumer. This connection increases the probability of influencing buying decisions. It's great to put your name on a stadium, event, or align with a sports team but it's the holistic approach that will lead to a successful partnership."
It is USE's job to connect those dots, to turn clients' advertising dollars into a meaningful impact on business. Thus far, efforts have been successful. But as Mickley considers the future of the new department, he hopes its current state is only the beginning.
"We've moved rather fast over the first nine months," Mickley said. "And I'd like to continue as a well-established, well-recognized sports and entertainment marketing agency. We want to continue to evolve and expand in a variety of different spaces, all in the name of delivering the best possible service to our partners and ensuring we make a difference for their brand."