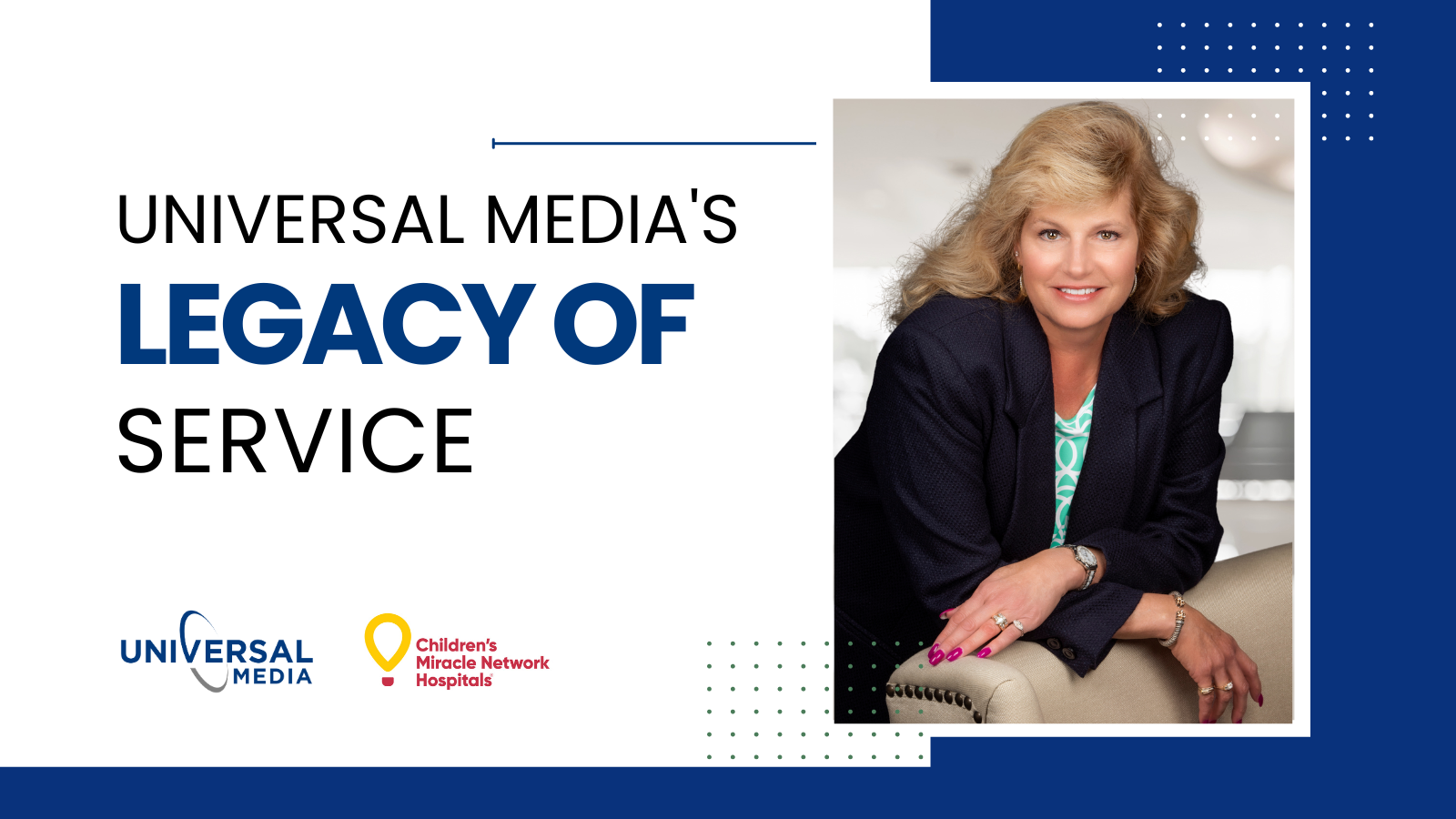 When Ann Shields first joined the board at the Children's Miracle Network, it was because she believed in their mission and the values they stood for. Now, over 20 years later, those original core values are integrated in the relationship between Universal Media and CMN, and have helped impact the lives of countless children and families across Pennsylvania, giving new meaning to the word "service."
"One of the missions that Universal Media has always had has been honoring charities that support women and children," Shields said. "So [CMN] follows along with the philosophy of our partnership as well as the communities we give money back to."
This year from June 5-8 the 39th annual Telethon provided as great an opportunity as any to support CMN's mission. The 2023 Telethon raised $336,556.67 to give more local kids the gift of growing up.
For Shields, financial tithing is just one of the ways one can give themselves in service. While CMN's telethon runs for only a few days, they host a myriad of events throughout the year that provide individuals the opportunity to offer a resource just as valuable as their money: their time.
"One of my most rewarding experiences being on the board is having the ability to volunteer," Shields said. "I really enjoy that aspect of it because it's not always volunteering directly with children, it's volunteering for events that help raise money for the children. I think there are times we take for granted all the blessings God has given us, and when I volunteer it brings humility back in my life and reminds me how truly lucky I am for the blessings I have. My husband Don and I feel that God has blessed us, so it's our responsibility to bless others."
Don and Jim Young, two of UMI's founders along with Rick Jones, grew up in an orphanage near the company's home in Mechanicsburg, Pa. Their difficult upbringing served, in many ways, as the foundation for UMI's giving spirit. Don Young still gives to the institution he grew up in, and has contributed to its transformation into a truly formative place for those in need.
Shields describes her childhood as middle class, but says that her personal compassion was inspired by the kindness of her father. Shields says he never failed to offer himself in service to others, and made an indelible impression on everyone around him.
"My Dad was very big on random acts of kindness," Shields said. "He would give $20 at the turnpike booth and say 'This should pay for my toll plus the car behind me.' Or you go to a convenience store and a person's getting a cup of coffee, and he'd say 'I'd like to pick up that coffee for them.' He would go out to the garbage men when they would come by and say 'Thank you so much for doing this, I know this is a thankless job. Can I get you a soda? Can I make you a sandwich?' Just things like that."
Carrying on her father's legacy is a crucial aspect of Shields's approach to service.
She often says she is committed to ensuring "service" is not merely a buzzword, but a quality that permeates throughout everything an organization does. Prior to the COVID-19 pandemic, Universal conducted a variety of initiatives intended to spark both office camaraderie and a giving spirit– including Halloweens where dressing up earns a donation, and Dairy Queen days where UMI enjoys Blizzards for breakfast and contributes to CMN. As the office begins to fill again, Shields hopes to return to these traditions as a way to continue instilling service as a priority.
CMN has helped raise over $8.5 billion for member hospitals throughout the United States and Canada since 1983. That included over $421 million during the 2022 fiscal year alone, and the telethon serves as the conclusion of another successful fiscal year for the organization.
The help CMN provides is meaningful not only for families in immediate need, but for any family who may need their services in a time of crisis.
"I originally thought that CMN meant the children who were born prematurely or have in vitro diseases that need to be taken care of, when in fact it's a pediatric hospital for all children under the age of 18," Shields said. "Whether they're born healthy and develop a disease, or they're in a car accident or fall from a tree or a window, there are many causes. So you may think, 'I don't need CMN,' when in fact you could need it at any time."
CMN works day and night to provide life-changing care to children across the nation, and UMI hopes to replicate that commitment in their support of CMN and other charities in the community. Much of that effort starts with Shields, who strives each day to honor the compassionate legacy that both her father and UMI's rich history have created.