Imagine having a tool to help you reach roughly 2.85 billion people based on their interests, likes and behaviors. Look no further than the biggest social network worldwide, Facebook. Facebook's Ads Manager allows you to reach even more people, 3.45 billion according to statista.com, through the company's core products, which not only include Facebook but WhatsApp, Instagram and Messenger.
Perhaps you're a small business owner or just new to the platform, advertising on Facebook may seem like an overwhelming task. But with some basic knowledge and understanding, you can get your advertisements onto the devices of consumers who can begin engaging with your ads. Let's get started.
Hierarchy of Facebook Campaigns
For easy campaign creation and management, campaigns are broken down into three levels.
Campaign: You set the goal of your advertisement by selecting an objective, which will be explained in more detail below.
Ad Set: A more granular level, in which you can target based on geotargeting, age, gender, interests, behaviors and languages.
Ad: You create how the ad will look and read. Specifically, implementing creative, text, page identity and URLs.
Campaign Level – Selecting an Objective
Objectives are organized under three broad categories, which include awareness, consideration and conversion. Before creating a campaign, you must evaluate what your business goals are and what you want to achieve from placing your ad. For example, if you wanted to funnel people to your website, choosing the "Traffic Objective" would make the most sense. If you were trying to increase your follower base the "Engagement for Page Likes Objective" would be a wise option. For the full chart on how to chose the right objective, see Facebook's Business Help Center.
Ad Set Level – Defining Your Target Audience
Once you have selected the right campaign objective, it's time to decide who to deliver your ads to. Facebook offers broad to very granular targeting options. Ads automatically are shown to people who are most likely to find them relevant. There are three different tools to help you sharpen your targeting.
Core Audiences: Define your audience based on criteria like age, interests, geography, behaviors and connections.
Custom Audiences: Connect with users who have already engaged with your business in some form. You can create custom audiences from contact lists, app users and site visitors. To utilize the site visitor option, a Facebook pixel is needed, which is a piece of code that you place on your website. It collects data that helps measure, optimize and build audiences to use in your ad campaigns. While a pixel is not necessary to advertise on the platform, it is highly recommended. Pixel data helps deliver ads to the right people, which will improve your ad conversion rate and ROI.
Lookalike Audiences: Reach users who are most similar to your best current customers. Your lookalike audiences are created from a source audience derived from a custom audience.
Other important components for the ad set level, include campaign budget, campaign schedule and placement selection. Budgets can be set at the campaign or Ad Set level. If you have multiple ad sets and want to control budget, you will want to split the money under each individual ad set.
Advertising on Facebook spans well beyond the Facebook news feed. Ads are also placed on Instagram, Messenger and the Audience Network (third-party, high-quality apps). At the Ad Set level you can choose to place your ads automatically or manually. Automatic placement is recommended because Facebook's delivery system best optimizes your budget across all relevant placements.
An example of a time you would want to manually place your ads would be if you only want to place "Story" specific ads. See the full list of how to chose ad placements here.
Ad Level – Add Imagery and Text
Now it is time to captivate your audience by building what your ad will look like visually. At the ad level you will upload creative, text, URLs and Click Through Actions (CTA). There are four main creative types.
Image Ads: High-quality and engaging static visuals.
Video Ads: Utilize sound and motion to engage your audience. Videos can be uploaded or created in Ads Manager using the Video Creation Kit.
Carousel Ads: A single ad showcasing multiple images or videos that consumers can swipe through. Carousel ads can have up to 10 creative pieces, each with a unique URL.
Collection Ads: Encourage shopping by displaying items from your product catalog in a customized and personal way for every shopper.
Once creative is uploaded, text needs curated to accompany and help amplify your ad. Text options vary based on objective, but the basic options are main text, headline and link description. If a URL is being included to direct people to a website, a CTA can be included which is a button to encourage an action, such as "Learn More" or "Shop Now."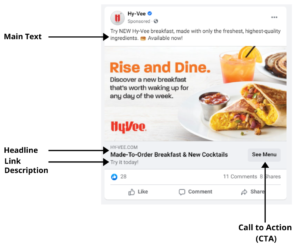 Facebook has recommended character counts for text as well as specifications for creative sizes and dimensions; placement dictates text visible and ad size served. The Facebook Ads Guide provides design specifications and technical requirements across each format and placement. You can find information on dimensions, file sizes, character limits and more here.
You are probably asking yourself what kind of ad type you should use. Typically, videos and carousels tend to generate higher engagement, but it is crucial to test your ads to find what works best in reaching your target audience and maximizing the potential of each campaign.
Getting Results
Good results aren't achieved by luck, digital advertising constantly needs tested and optimized for. As you work your way through the hierarchy of creating an ad, special attention should be paid to the details at every level.
The longer you work in Ads Manager you will familiarize yourself with the plethora of tools and options Facebook offers. Some options may work for your brand while others may not add value. The social advertising journey is different for every business. Now it is time for you to start understanding what works for your brand!